Midwest Elite Basketball is coming to town! MEB will be in town June 19-21 for boys and girls in grades 7-12. Camp will be in Rosholt, boys will be at 8:00am-12pm and girls will be at 1:00pm-5:00pm. They customize their camp to fit our program needs and wants. We hope everyone strongly considers coming. Please pickup and send forms to Rosholt School (202 Finley Ave, Rosholt, SD). Please make checks out to TRI-STATE BASKETBALL. Any questions please contact Coach Krueger.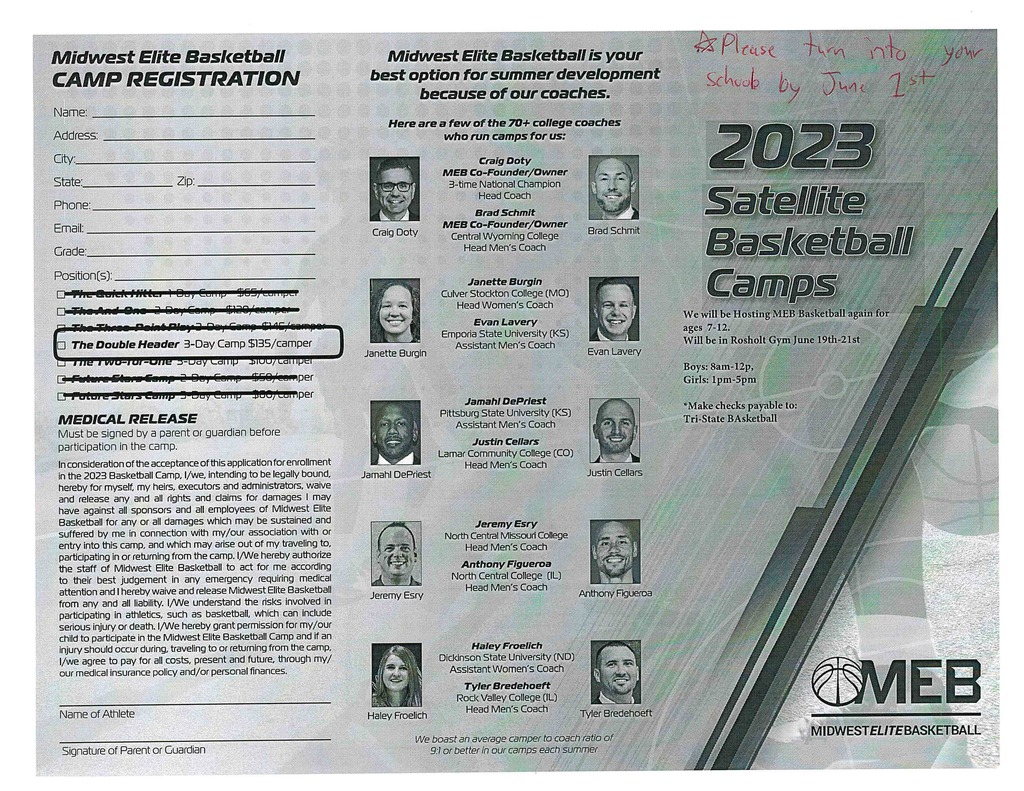 After receiving several questions Coach Jepsen would like to clarify that ALL 7-12 track athletes and parents are invited to the awards program. A few of the parents have been kind enough to organize a meal for all who attend, so please bring your apatite. Junior high ribbons will be handed out at the awards program as well. If you have not turned in your uniform, please do so tomorrow.
Just a quick reminder that the track program will be having its awards presentation after practice tomorrow (Tuesday). It will begin at 5:30, and all track athletes and parents are invited. Please come celebrate another successful season for the Tri-State Tigers track program.

There will be an informational player meeting tomorrow for interested volleyball players who are currently in grades 8-11 (next years 9-12). The meeting is to discuss summer opportunities. The meeting will be in Fairmount at 12:30. Bus leaves Rosholt at 12:00 and Campbell at 12:10.
Congratulations to the following athletes for qualifying for the State Meet: Grayson Madsen, Casey Litton, Kaleb Foltz, Kadin Raguse, Amsden Piotter, Owen Wood, Leonel Chavez, and Zach Smith. The track team will be having their award program on Tuesday. All athletes and parents are welcome.

It is Region Track Day!!!!!!! Here is the schedule for today's meet in Groton. Reminder that to qualify for the state track meet you need to be in the top 24 in the state. Here is the website to check current times and distances.
https://www.sdhsaa.com/tf-top-performances/
Go Tigers!!!!!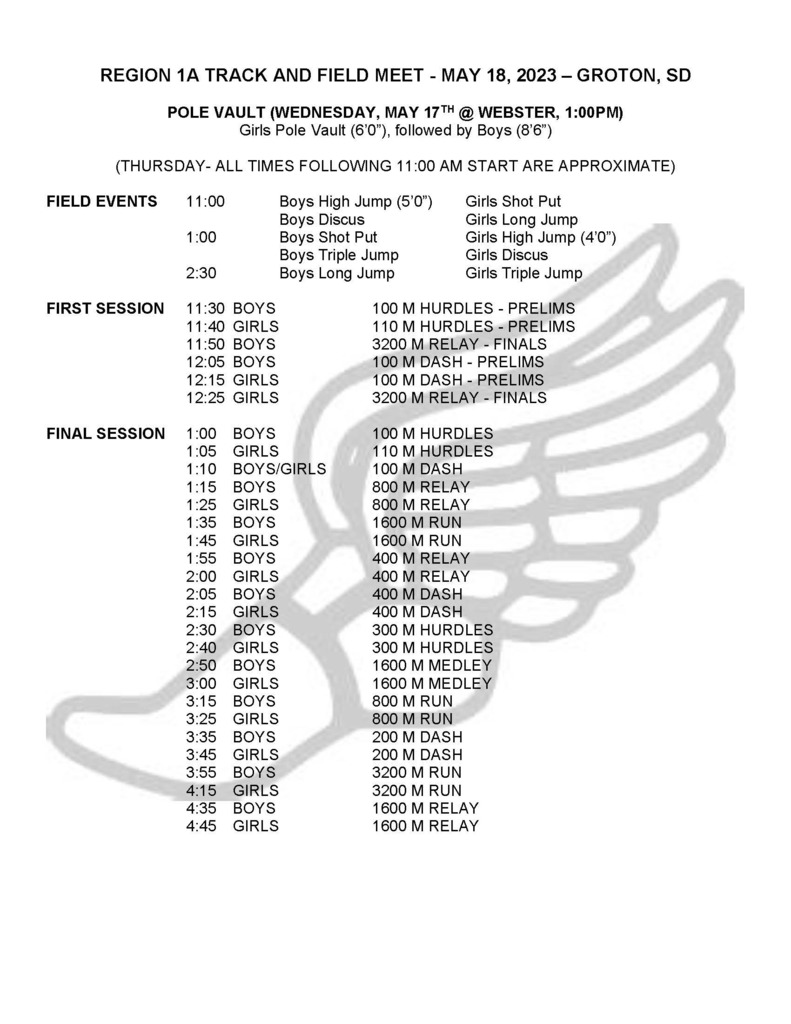 This past week was a successful one for the track program. At the ECC Meet Grayson Madsen won the Outstanding Boys Runner award. He won the 1600, placed 2nd in the 800, ran in the winning 4x200 Meter Relay and also ran in the 4x400 Meter Relay that placed 3rd. Shali Laurence won the Outstanding Girls Field Events award with a 2nd place finish in the Shot Put and a had a winning throw in the Discus. At the Waubay Legion meet Casey Litton ran Personal Best times in both the 100 and 200 in rough conditions. Casey finished 2nd in the 100 and 1st in the 200. He also ran in the winning 4x200 meter relay and in the 4x400 relay that placed 3rd.

Here is the information for the track meet in Webster today. Go Tigers!!!!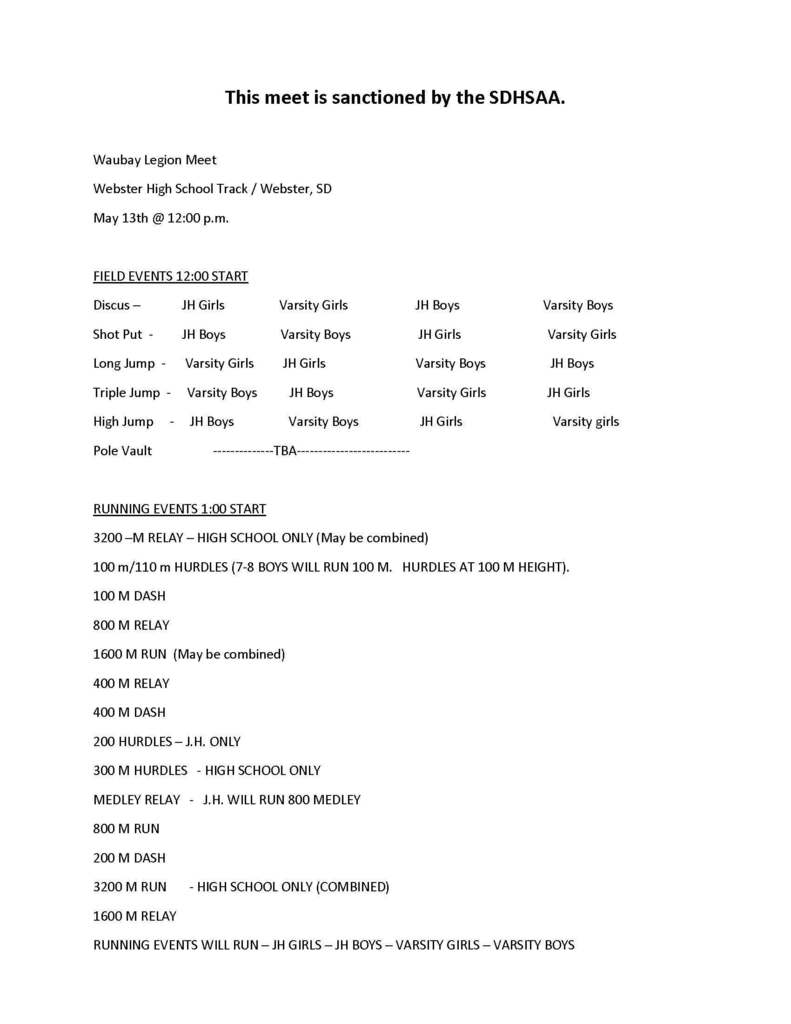 A football meeting will be held in Fairmount on Wedesday, May 10th at 6:15. The meeting will be held in the gymnasium. Fairmount has a school board meeting at 5:00 and this will allow time for that meeting to end. The meeting will be for parents and athletes in grades 8-11 who are interested in playing football next year. If you are unable to attend please e-mail a TST athletic director about any concerns or thoughts you may have. Go Tigers!!

Boys Basketball Awards Night is this Sunday at 7! Please let Coach Krueger know how many will be attending! Players, parents and immediate family members are welcome!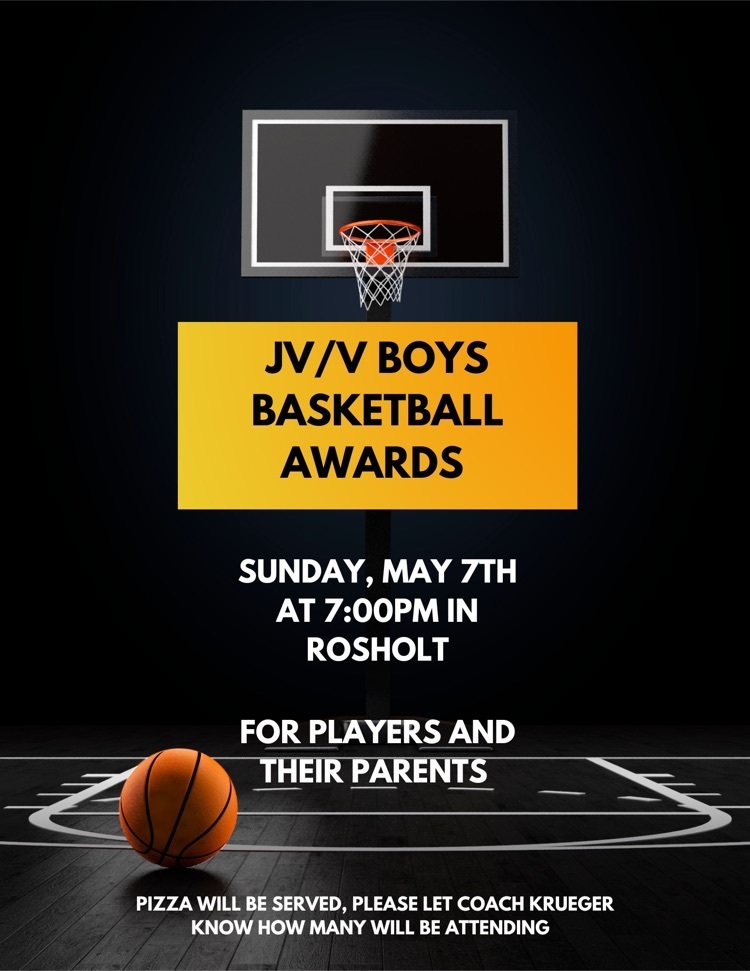 The Howard Wood track meet has been changed to a rolling schedule. They are trying to get ahead of some weather that will be moving in. So be advised that some events will not match up to the listed schedule. Go Tigers!!!!!

Good luck to the 6 boys competing at the Howard Wood Relays in Sioux Falls today and tomorrow. Check out the schedule on the Howard Wood website. There is also a livestream option as well.
https://www.dakotarelays.com/
Go Tigers!!!!!

The track team is split up tomorrow (5/5). Some athletes were invited to the Howard Wood track meet in Sioux Falls and the remainder of the team will compete in Sisseton. The meet schedule for Sisseton is attached. Go Tigers!!!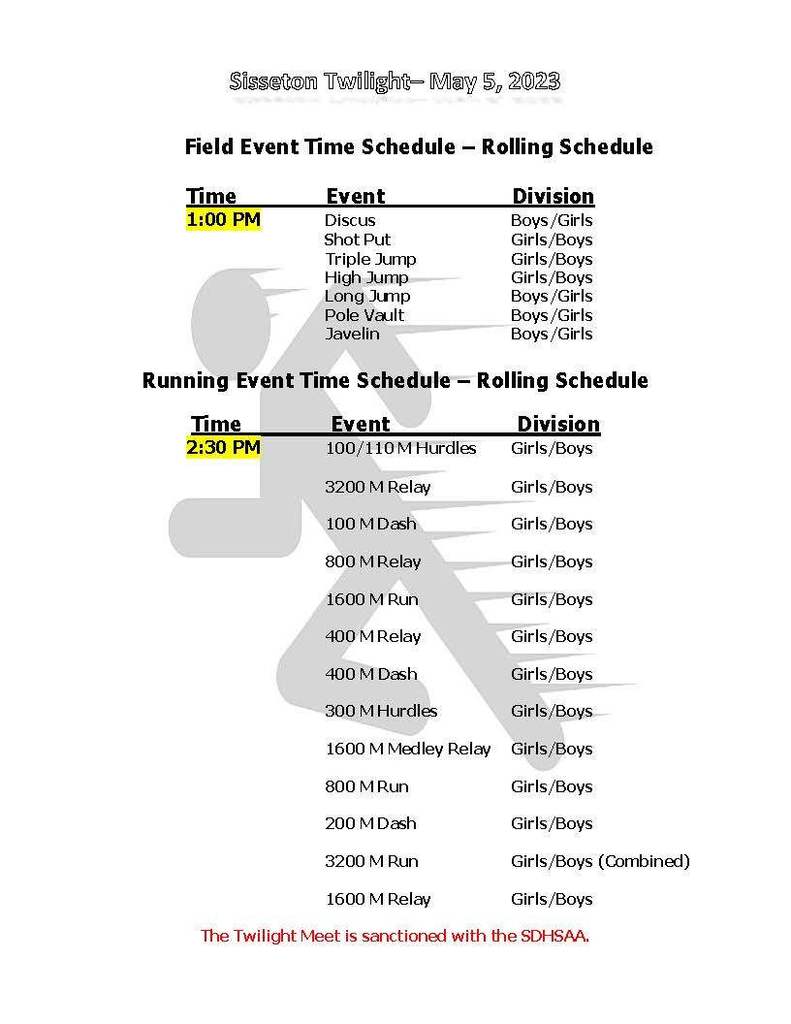 The track team travels to Milbank today to compete in the Valley Queen Cheese Invitational. Bus times will be Campbell at 10:00, Fairmount at 10:20 and Rosholt at 10:45. Attached is the schedule of events. Go Tigers!!!!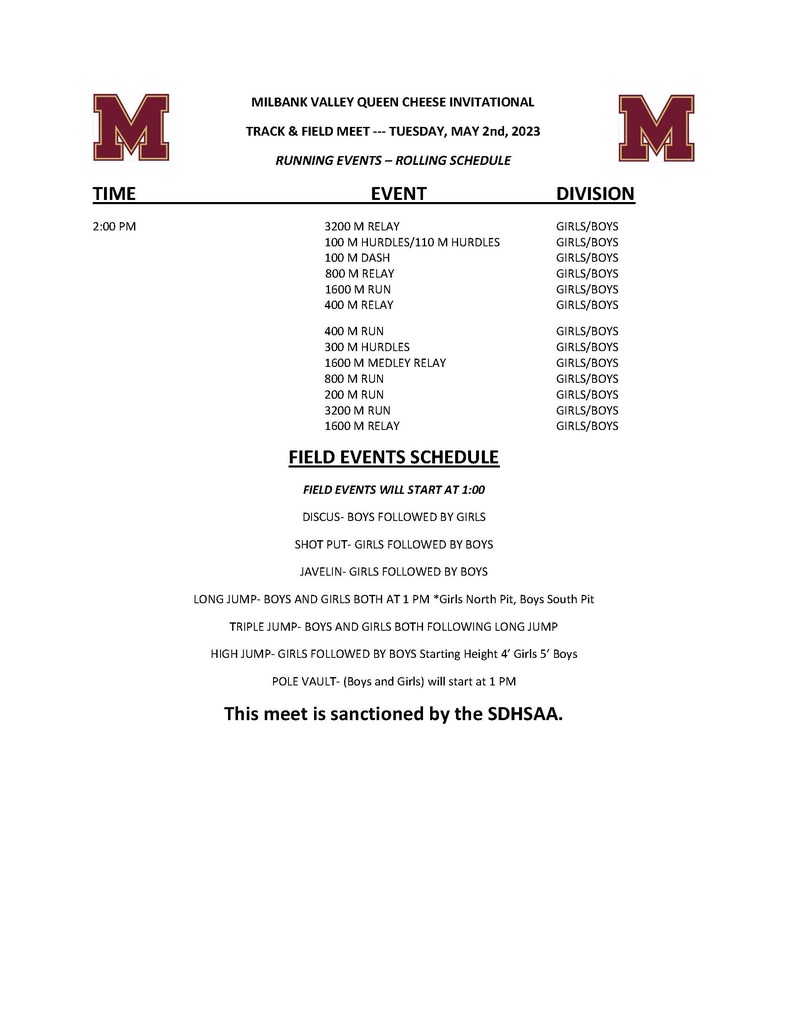 A limited contingent of golfers from Tri-State and 72 other Region 1 golfers participated in the South Border invitational held Saturday, April 29 in Ashley, ND. The results proved to be very promising for the upcoming Tiger's season. Congratulations to Cody Klindt who shot the lowest round of the tournament and was awarded Medialist honors for his very strong score of 76 in extremely windy conditions. Kudos should also be given to Jerrick Townsend who shot his personal best score. Play will continue this week at the Milnor invitational to be held on May 5.

The Region 1 Baseball Jamboree will be streamed on Your Live Event. Here is the link
https://www.youtube.com/watch?v=wC8LilYAZ-Q
HFCLR will play Enderlin at 10:00 and Kindred-Richland at 6:00. There are games all day today and tomorrow. Good Luck.

The Varsity track team travels to Milbank this afternoon. Check out the schedule. Go Tigers!!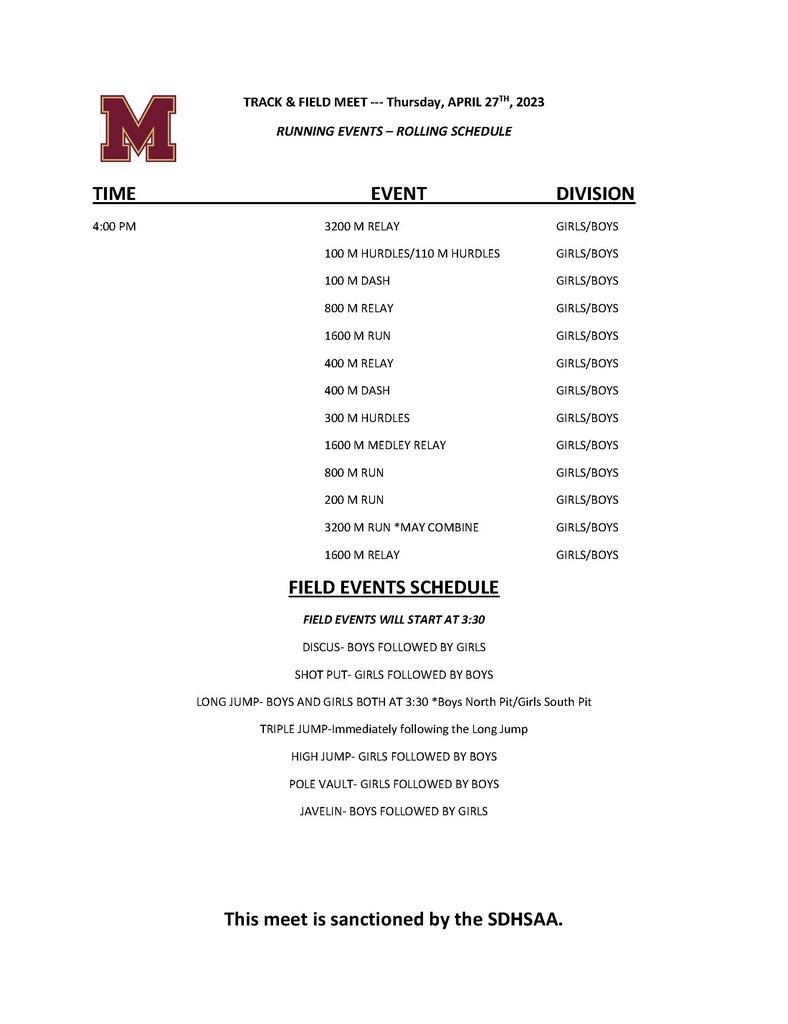 The Sisseton Legion Relays scheduled for Friday has been cancelled. The SDNG 2.0 Meet scheduled to run in Milbank is still on as of Wednesday afternoon. If there are any changes we will let you know.

The Varsity meet in Clark starts at 4:00 and the meet in Milbank starts at 3:30. The bus leaves Campbell at 12:30, Fairmount at 12:45 and Rosholt at 1:15. Good Luck Tigers!!!!